368 Hostel & Hotel reviews on site! About Guatavita.

Hospedaje El Mirador de Pueblo Viejo, Guatavita, Colombia
(May 2018 - 1 night). I had a very nice room with great bed at the very special price of $50000 pesos! I believe it's normally at least double. Private bathroom, tv, wifi etc. Located up the hill from the main town - 5mins walk. Good views of the surrounding area and helpful staff. Recommended.
About Guatavita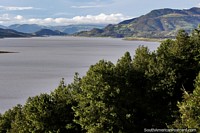 .