368 Hostel & Hotel reviews on site! About Cali.

Hotel Centralia, Cali, Colombia
(May 2018 - 3 nights). Located across the road from the bus terminal down a sidestreet. $35000 pesos for a basic room with bathroom. Bed was good, window opened, easy-going staff, secure and easy to get to and from by taxi. Makes a good base for a few days in Cali for the budget traveller - no hostel dorm required!
About Cali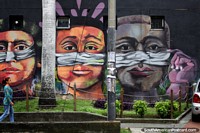 .