368 Hostel & Hotel reviews on site! About San Gil.

Hostal El Papillon, San Gil, Colombia
(July 2013 - 2 nights). Spent 2 great nights at this hostel in a private room, shared bathroom situation. The kitchen is big and has everything for cooking. The back garden is nice and has hammocks to relax in. The owners are very nice and helpful. Recommended.
About San Gil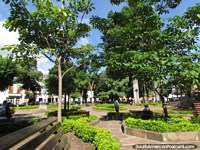 .