Related Photos
Party with the locals at Tayrona National Park.
The hammock room at the top of boulder hill at Tayrona.
A group of hardcore trekkers walking to Bonito Gordo beach.
Walking through the rocky forest to Bonito Gordo bay.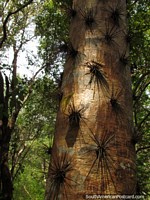 A tree with razor-sharp spikes prevents anything from climbing it, Bonito Gordo.
Map location: Tayrona National Park, Colombia