368 Hostel & Hotel reviews on site! About Latacunga.

Hotel Cotopaxi, Latacunga, Ecuador
(July 2012 - 2 nights). This is a nice hotel overlooking the main plaza in Latacunga. I got a great price, something like $20USD per night, all the mod cons are here. It's located in the historical center.
About Latacunga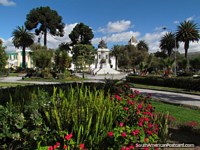 .