368 Hostel & Hotel reviews on site! About Latacunga.

Hostal Pillarenita, Latacunga, Ecuador
(Jun 2009 - 2 nights). Nice little rooms with tv on 2nd or 3rd level with street views, shared bathroom, it's opposite the bus terminal for buses for the Quilotoa loop, I stayed here before and after Quilotoa.
About Latacunga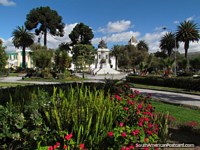 .